Welcome to Creativepet.com
 Serving your Critters online since 1996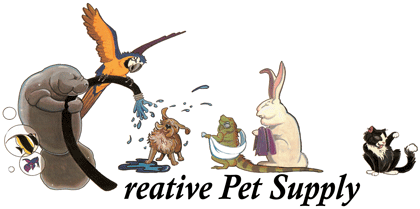 Your one stop shop for all of your favorite pets' needs. Our warehouse stocks thousands of items, for Dogs, Cats, Reptiles, Birds, Marine and Freshwater Fish, and all types of Small Animals.  Products from quality manufacturers such as Ware Mfg., Cardinal Labs, Vo-Toys, Precision, Smokehouse Treats, Booda, Aspen Pet, Natural Balance, Darford, Eagle Holistic, Wellness, Darford, RealMeat Treats, SmartBones, Seatec Supplements, Hagen, Habitrail Playground, Habitrail Mini, Habitrail OVO, Oisis, Lixit, Habitrail, Living World, Zupreem, Mazuri, T-Rex, Vision Herp, Exo Terra,  Hovabator, Zilla, ZooMed, Kordon, Tom, Oscar and many more.
Check back often for specials and new items.
We know your Critters will love our selection of quality products and you will LOVE our LOW prices!
Please feel free to peruse our site, ordering with confidence from our secure, encrypted server.
If shopping online is not for you, please don't hesitate to give our trained customer service representatives a call, TOLL FREE in the USA and Canada at (800) 227-0001, and internationally, at +1 310 832-9929 Monday to  Friday 10AM to 6PM, and Saturdays 10AM to 4PM Pacific Time.  Fax us your order 24 hours a day to +1 310 832-9982
Our warehouse is open to the public Monday to Friday 10AM to 6PM, and Saturday 10AM to 4PM. Please feel free to drop in, and say hello if you are in the neighborhood.
We are located at:
305 North Harbor Blvd.
San Pedro, CA 90731
(800) 227-0001
Questions or Comments,  Email us at:
[email protected]